Watch Video
Course Overview
Get ready for a mind-blowing course that takes you on an exhilarating journey into 3D modern motion design and art. Brace yourself for an extraordinary program that will equip you with the ultimate arsenal of skills, unveiling the complete production pipeline and immersing you in the captivating world of dynamic 3D and animation video production.
Hold tight as we plunge headfirst into the awe-inspiring universe of Cinema 4D software, where we'll unearth a treasure trove of widely-used 3D and animation techniques. Be prepared to witness an explosion of creativity as we guide you through the intricate process of character creation, unleashing the power within you to craft breathtaking visual masterpieces that will leave audiences spellbound.
But that's not all! As we reach the grand finale, we'll embark on a thrilling exploration of the boundless realm of creativity. Together, we'll unlock the secrets to generating mind-boggling ideas that captivate and mesmerize any audience. Dive deep into the art of scriptwriting, animatics, and the essential steps that unravel the mesmerizing intricacies of art direction, leaving your mark as a true visionary.
Required Software
Cinema 4D, Redshift, DaVinci Resolve
Complete Pipeline
Gain comprehensive knowledge and skills in pre-production, production, and post-production, including scriptwriting, storyboarding, editing, and visual effects. Unlock the secrets to seamless project management and learn how each stage intertwines to create a cohesive and successful production, ready to captivate audiences.
3D Motion Boost
Boost Your Skills in 3D with this transformative program designed to unleash your creative potential. Dive into the captivating world of 3D design and animation, mastering techniques in modeling, texturing, rigging, animation, and rendering. Elevate your skills to new heights and create stunning visual experiences that will leave a lasting impact.
Personal Feedback
Receive invaluable personal feedback to enhance your growth and development. Gain insights and guidance tailored specifically to your strengths and areas for improvement. Personalized feedback always provides a unique opportunity to refine your skills, boost confidence, and reach new levels of excellence.
Practical Marathon
Immerse yourself in real-world tasks to sharpen your skills and gain practical experience. Through hands-on practice, tackle authentic challenges and apply your knowledge dynamically and engagingly. Develop problem-solving abilities, build confidence, and bridge the gap between theory and application. Prepare yourself for success in any professional endeavor.
Pump Creativity
Ignite your creativity and unlock its limitless potential. Discover techniques and strategies to nurture and expand your creative abilities. Explore new perspectives, embrace experimentation, and cultivate a mindset of curiosity. With guidance and practice, watch your creative capacity flourish, leading to innovative ideas, unique solutions, and a truly enriched life.
Tips & Tricks
Discover a treasure trove of valuable tips and tricks to level up your skills and enhance your expertise. Uncover insider secrets, shortcuts, and best practices from seasoned professionals in various fields. Whether it's productivity hacks, problem-solving techniques, or creative strategies, these insights will empower you to achieve excellence and surpass your goals.
CHAPTER ONE
Cinema 4D Practice
LESSON #1
Marshmellow
Embark on a comprehensive free journey through the entire pipeline of creating a delightful marshmallow scene, where we'll unravel the intricacies of modeling, rigging, animation, and rendering. Get ready to master the art of crafting captivating 3D scenes from start to finish.
LESSON #2
Beast Mouth
Let's continue our immersive exploration of the Cinema 4D software as we delve even deeper into its boundless capabilities. Brace yourself for an exhilarating adventure as we unveil exclusive techniques and guide you through the creation of the jaw-dropping "Beast Mouth" scene.
LESSON #3
Centipede
Intriguing Cinema 4D setup that will enable you to bring a captivating centipede loop animation to life. We have many captivating techniques to take your skills to new heights as you progress on this exciting path. 
LESSON #4
Guitar Beast
Animate a guitar-playing and singing 3D character. Learn our dynamic pipeline as we guide you through the intricacies of modeling, rigging, and animation. As a bonus, we'll dive into the fundamentals of face rigging, equipping you with the essential knowledge to bring expressive emotions to your character's visage.
LESSON #5
Beast in Jacket
Discover the exciting world of visual effects (VFX) as we delve into the process of creating realistic clothing simulations for your characters. 
LESSON #6
Sitting Beast
Let's combine the puzzle pieces and summarize the essential elements of the 3D character animation pipeline we explored in previous lessons.
LESSON #7
Seaweed Beast
This exciting VFX lesson explores the exclusive techniques required to recreate the awe-inspiring "Seaweed Beast." By the end of this journey, we will have acquired a range of specialized skills and insights that can be applied to future projects.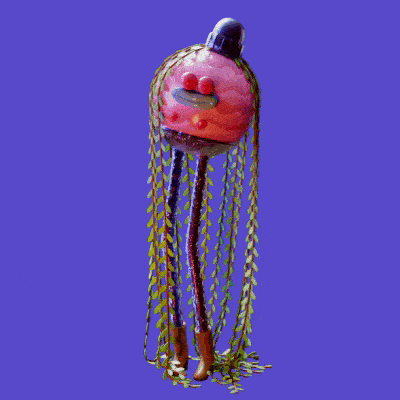 LESSON #8
Walking Beast
In this lesson, we will explore the process of crafting a 3D character walking cycle, which serves as a fundamental foundation for creating realistic and fluid animations. By understanding the intricacies of a walking cycle, we can effectively portray our characters' weight, balance, and natural movement.
LESSON #9
Snake Beast
Get ready to tap into your creative side as we recreate the magnificent "Snake Beast." Throughout this process, we'll delve into various facets of the 3D animation pipeline, shading, and rendering.
LESSON #10
Bulding a Scene
This lesson will provide us with a comprehensive understanding of the setup involved in crafting a 3D scene, from the characters to the intricate details of the surrounding environment.
CHAPTER TWO
Behind the Scenes
LESSON #1
Post-Production Effects + Color Correction
Dive into this comprehensive program and learn advanced techniques to enhance visuals, add stunning effects, and create seamless transitions. From color grading to motion graphics, unleash your creativity and transform your raw footage into a captivating final product that will leave a lasting impression. We will adjust brightness, contrast, saturation, and hues to achieve the desired look or correct color imbalances. Color correction plays a crucial role in creating visually appealing and accurate imagery.
LESSON #2
How to be Creative?
Unlock the secrets of creativity and embark on a transformative journey to unleash your full artistic potential. This exceptional lesson will guide you through cultivating and honing your creative abilities, equipping you with the tools and techniques to become a true master of your craft.
LESSON #3
Ideas, Script, Scamping
Gain a comprehensive understanding of the fundamental principles of scriptwriting and screenwriting. This lesson delves into the core elements that make for compelling narratives. Prepare to unravel the secrets of persuasive storytelling and master bringing characters to life on the page!
LESSON #4
Art Direction
In this lesson, we'll delve into the artistry of directing visuals, equipping you with the essential knowledge and techniques to manifest your creative vision in tangible form. Prepare to harness the power of art direction as we guide you through the intricacies of translating your imaginative concepts into stunning visual realities!
LESSON #5
Animatic
In this part, we'll delve into the intricacies of preparing animatics, equipping you with the skills and techniques to align storytelling and rhythm for flawless execution. Prepare to acquire the tools to avoid potential obstacles as we guide you toward mastering the art of animatics with finesse and finesse!
LESSON #6
Timing & Rhytm
Master the art of timing and rhythm to evaluate your creative pursuits. Learn
how to strike the perfect balance between elements. Explore techniques to create impactful moments, build scenes, and engage your audience with a scene of harmony and precision. Unleash the power of timing and rhythm in your artistic endeavors.
Iaroslav Kononov
The proud founder of Motion Design School. With over 15 years of experience as a 2D/3D animation artist and a broad skill set encompassing software like Adobe Animate, After Effects, Blender, Cinema4D, and more…
In this course, I am honored to guide you on a transformative journey toward unlocking your creative potential.
Max Kravchenko
Working in Motion Design School since it was founded and have ten years of experience in 2D and 3D animation. Created more than hundreds of tips and tricks #motiontricks in Motion Design School's Instagram account
In this course, I will take you on a mind-blowing journey as we unlock your creative potential through animation mastery.
Pasha Ho
I am a 3D artist and generalist with over 15 years of experience in software such as Cinema 4D, Zbrush, Houdini, 3ds Max, and many others. I also authorize the HoRope plugin for Cinema 4D and the 3D Generalist course.
In this course, I will impart all the knowledge you need to become a skilled and accomplished 3D Generalist!
Our students working in top companies
18 thoroughly explained lessons with home tasks;
Access to all course updates in the future;
Extensive explanations of home tasks;
Community membership;
Personal Comprehensive Feedback.
3D Motion Beast
Join us in an exclusive, one-of-a-kind course where the magical world of Cinema 4D art and animation unfolds before your eyes. Experience the thrill of mastering the complete production pipeline, from concept to final masterpiece. Enroll now and embark on a breathtaking journey of 3D production, animation, editing, compositing, and screenwriting. Unleash your creativity and seize this rare chance to make your artistic dreams a reality!
LEVEL
A course that is suitable for all levels
beginner – pro

100% money back guarantee
If unhappy with the course, you can request a refund within 14 days after the purchase and get every cent back. Courses purchased before the actual starting date refund can be requested up to 14 days after the first lesson becomes available. Note: not applicable if purchased with a discount coupon