© Wobbly Walking Pigeon by Fabien Rousseau
Learn how to tame this pigeon from start to finish in After Effects. In this masterclass, we will be talkin' about Faux 3D, Puppet Tool & a small dose of frame-by-frame animation. I will also guide you through some of my techniques, my workflow and custom expressions. Better keep this folk as wiggly as possible, right?
Software used in Masterclass:
After Effects (CC 2019+)
Illustrator
Shape the Character in Illustrator
Basic shapes, pen tool & a tiny bit of nonsense, that's all you need for designing this peep! We will also use masks, pathfinding and a few other cool AI techniques.

Prepare Layers & Setup Workspace
Don't rush straight into AE! A tidy workspace and a good naming are the keys to be more effective. Let's Marie Kondō this workflow (I assure you it's fun).
3D Turn: Fake it!
Infinite round and round and round and round... Hacking 2D shape layers to get a 3D look requires some intricate knowledge, or not :)
Supercharge the Puppet Tool
It's time to see the wobbly magic hidden behind this creepy function. Pin it, link it, offset it, that's some good ol' tricks!
Secondary Wavy Action
We will see what a simple path animation can do for you. Meet your two new friends: Vertice and Tangent.
Frame-by-frame Walkcycle
Okay, after all this warm up,we are ready to punch some serious keyframes. And they will be a lot of them in this section. Let's roll for cel-animation basics in AE.
Wrapping up & Finitions
You'd be surprised how simple finitions gives another dimension to your design. I love shaking this screen, and you?
Bonus
Access 2 more project files to go deeper in the masterclass principles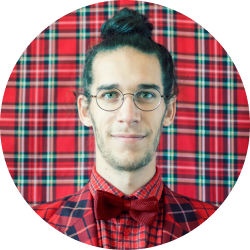 Hi 👋 I'm a freelance illustrator and animator from Brussels. With design & code background, I found my way to this amazing Mograph community. I like cooking spicy, twerk music and Legos. Trying my best to combine those with animation principles and bouncy loops!