Expressive Bird Animation
© Expressive Bird Animation by Max Marakhovskyi
In this free masterclass, we will, step by step, animate this beautiful illustration and after that, add some effects and stylization. Emphasis will be on how to make a charismatic movement of the bird and what principles of animation was used.
Software used in Masterclass:
After Effects (CC 2018+)
Illustrator
Expressive Bird Animation
Preregistration is opened for the masterclass starting at 15th of April
Preparation of illustration
Prepare and correctly combine shape layers

Animation of a bird
Will make the main movement of the bird, see what principles of animation are used for this, adjust the easings. We will animate the secondary elements and the environment.
Animation of the hares
Will make the animation of hares and the reaction of the environment
Background animation
Looping the background and set up offsets
Stylization
We will learn how to create a cool texture and apply it.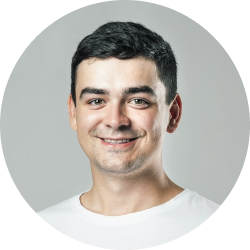 Experienced Motion Designer that was one of the best students of our offline school. He is the one behind #motiontricks in Motion Design School's Instagram account .

Expressive Bird Animation
Preregistration is opened for the masterclass starting at 15th of April