What does it take to create one of Motion Design School's most popular courses?

We asked Markus Magnusson, the author of The Science of Character Animation, about his experience of developing his course, collaboration with MDS, future plans and more.
— How did you start working in this industry? Tell us a bit about your personal motion journey.
— I first started animating back in the old Macromedia Flash days. Back then, I mostly played around with interactive websites, but after a while, I got bored doing rollover effects on buttons and decided to try my hand at more advanced animations. I got my first real breakthrough with my "To This Day Segment" and Rando trailer.
— Whose works inspired you? Was it difficult to find relevant learning materials at that time?
— There was really only a handful of studious and professionals that stood out back in the day. Buck was definitely one of them, and Justin Harder totally owned the scene back in the early 2000's, when I started to get into motion design.
— What made you decide to share your knowledge?
— People kept asking about tutorials… At first, I ignored that, but then I thought "Why not?"… After that, it just kept snowballing…
— Our students absolutely love your jokes. Have you ever taken a shot at stand-up?
— I'm afraid not, I'm actually really boring in person.
MDS Team: Except Markus told us that he is a schooled chef …

Just check the short compilation of Markus's jokes from the Science of Character Animation course:
— You have experience of using Patreon as a teaching platform. How is your work with MDS different?
— I don't want to compare them, as they both are awesome platforms in their own sense. However, I felt it was the right decision to pull the break on Patreon so we (me and MDS) could put together The Science of Character Animation. Spending 5-6 months on a course is hard to do on a subscription-based platform such as Patreon.
And besides, MDS has a really great system in place which gives students the most knowledge & bang for their bucks.
— How challenging has been creating the course for you?
— It was 110% all the way for me! But I wouldn't have it any other way seeing how much the students pay. Right now I'm on a little break as I'm trying to transition back to doing my old silly stuff.
— What are your impressions of the Character Tool and its Lite version that was created specifically for your course? Are you planning to use it in your future projects?
— 100% love the script! I would say that even with its Lite version you can work on complex commercial projects.
— Why did you choose our platform?
— MDS has an awesome system in place for teaching animation. They also have a great and energetic team that likes humor which was a big plus for me. There are designers, editors, sound specialists and people with expertise in teaching animation that can help you basically with any question you have.
MDS Team: We had a lot of fun working on this course, we can't deny this. We still insist on you trying standup.
— Science of Character Animation is currently one of the most popular courses among our students. What's the secret behind its success in your opinion?
— That's easy, it's due to all the awesome student-work, I'm constantly awe-struck by the quality! I guess it's gonna get harder winning new clients seeing how awesome the students are after they're done with the course…
— We are just as inspired by our students' progress as you are. So, taking into account your success with Science of Character Animation, are you considering creating other courses?
— It's a great experience, as I've mentioned already, so I've been thinking about creating other courses, for sure. But right now I'm gonna focus on personal work for a little while, it's good to take a break for some time.
— What are your plans for the future?
— Now I just want to enjoy a life without plans, at least for a couple of months 🙂 Then we'll see, there are always great projects in this sphere.
Want to know more about animation?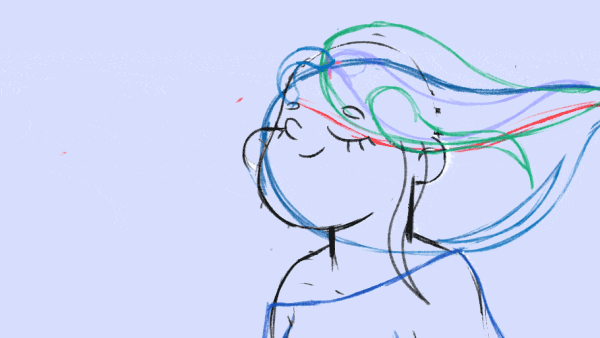 In this short frame-by-frame animation tutorial, I'll show you how to create and animate an illustration from scratch. We'll start with a sketch and will go all the way up to post-production. To do this you'll only need Photoshop for drawing and for frame-by-frame animation and After Effects to put it all together nicely and […]
How often you want to achieve the exponential scale. You've probably tried to do that with graph editor, but it's almost impossible. In that case, we've prepared the two ways how to do it quickly.Right-click on selected keyframes, go to keyframe assistant, and choose an exponential scale. That's it!Another way is to use the expressionWhich […]
New "How to" create a funny chair run cycle in After Effects.Step-by-Step Guide: Runnning Chair AnimationThe Running Chair Animation in After Effects is a creative and dynamic effect that can add visual interest and energy to your projects. It involves animating a chair to simulate movement as if it is running or sliding across the […]